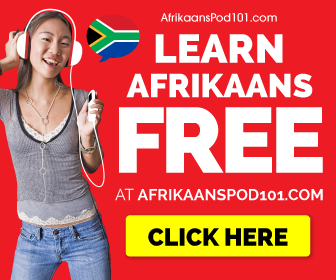 aa

as in father

---

ae

Produces two sounds one after another, and pronounced quite quickly. First sound is the same as 'aa' and is quickly finished off with the Afrikaans 'a' as in dust

---

ch

can be pronounced in three ways: loch or shine or king

---

kk

as in cane

---

nn

as in man

---

sj

as in machine

---

ee

as in fear

---

eë

as in fear but pronounced as two separate sounds. Sounds almost like 'ee-ye'

---

ië

same as eë

---

ei

as is sale

---

eu

pronounced two ways: as in ear or as in mew

---

gh

same as english 'gh'. For example ghost

---

ll

as in lamp

---

mm

as in mend

---

ie

pronounced either as long 'ee' like in breed or as 'i' in sick

---

kn

as in pick 'n pay

---

ng

as in sing

---

oe

pronounced either as the long 'oo' as in loot or as a short 'oo' as in foot

---

oë

as in English doer

---

oo

same as German "ü", make your lips into the position of "o" but say "ee" instead.

---

ou

as in coat

---

rs

like farse but the 'r' is rolled

---

tj

as in chunk

---

ui

also a unique sound. Sounds like play but with pouted lips. The name shane is the closest english equivalent

---

uu

very unique sound. Sounds similar to German über but pronounced with more emphasis and much longer. Identical to the finnish 'yy' sound

---

aai

like the 'y' in shy but a pronounced a lot longer.

---

eeu

A unique trigraph. The closest English equivalent is the English word ewe. Try blending the sounds 'ew' and 'oo'

---

oei

similar to phooey but pronounced with a rapid 'w' in it

---

ooi

similar to oil but pronounced with a rapid 'w' in it

---

uie

similar to player but pronounced much longer
Note on Afrikaans
Note that although Afrikaans digraphs and trigraphs contain mostly vowels and sound as though they contain many syllables, they in fact are seen as a single syllable. For example the word 'Goeie' sounds as if it contains 3 syllables but in fact contains only two: 'go' and 'eie' are the 2 syllables.
From this you can see Afrikaans pronunciation, like English for a foreigner, can be rather irregular. Pronunciation can be hard and the accent is extremely difficult to master, but when spoken correctly, Afrikaans is the most melodical Germanic language. However, one should not be daunted. Afrikaans grammar is really quite simple and bears more grammatical resemblance to English than any other Germanic language. Verbs are even simpler than English: there is no am or are or were , but only is and was . One who is learning Afrikaans will probably catch onto it rather quickly and will have no problem with speaking Dutch or understanding German.
Differences Between Dutch and Afrikaans
A rukkie in Afrikaans is a short period of time, not a sexual act performed on oneself. Common use examples are: Ek gaan 'n rukkie slaap or Ek sal oor 'n rukkie daar wees
Baie means veel (many), however the word veel also exists in Afrikaans and has the same meaning.
Featured Video