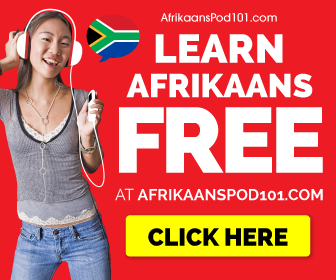 Afrikaans was originally the dialect that developed among the Dutch speaking Protestant settlers, and the indentured or slave workforce of the Cape area in southwestern South Africa that was established by the Dutch East India Company (Dutch: Verenigde Oost-Indische Compagnie — VOC , Afrikaans:Verenigde Oos-Indiese Kompanjie) between 1652 and 1705. A relative majority of these first settlers were from the United Provinces (now Netherlands), though there were also many from Germany, a considerable number from France, and some from Norway, Portugal, Scotland, and various other countries. The indentured workers and slaves were Asians, Malays, Malagasy in addition to the indigenous Khoi and Bushmen.
The Afrikaans School has long seen Afrikaans as a natural development from the South-Hollandic Dutch dialect, but has also only considered the Afrikaans as spoken by the Whites. Some believe that Afrikaans was originally spoken by the Khoisan people solely after using words they heard from the Dutch.
Though this 'theory' would imply the improbability of a language systematically developing out of a grammatology. Furthermore, this theory would fail to explain the systematic process of simplification from dialectical 17th century Dutch to Afrikaans, its geographically widespread and cohesive nature and also the persistent structural similarities between Afrikaans and other regional Franconic dialects including West Flemish and Zeelandic.
Afrikaans also remains akin to other West-Germanic languages (except English) in that it remains a V2 language which features verb final structures in subordinate clauses, just like Dutch and German.
Dialects
There is evidence to support the existence of a few strongly defined dialects as is also found in the Dutch language area. Following early dialectical studies of Afrikaans it was theorised that three main historical dialects probably existed before the Great Trek in the 1830s. These dialects are defined as the Northern Cape, Western Cape and Eastern Cape dialects. Remnants of these dialects still remain in present-day Afrikaans although the standardising effect of Stamdard Afrikaans has contributed to a great levelling of differences in modern times. Modern-day Standard Afrikaans itself is said to have developed from the Eastern Cape dialect (as this is where the Great Trek started and from where the rest of South Africa was initially populated).
Modern day Afrikaans could be said to include the following dialects:-
- Transvaal-Free State Afrikaans (being the most similar to Standard Afrikaans)
- Malmesbury dialect (characterised by the guttural /r/, similar to French.
- Cape Peninsula dialect spoken by the elderly these days and more similar to the so-called Cape Coloured dialects.
- Maleier Afrikaans ( A Cape dialect heavily influenced by Arabic and Malay owing to the ethnicity of the speakers, see Cape Malays).
- Kaapse Afrikaans
- Kalahari Afrikaans
- Griekwa Afrikaans
- Kharkhams Afrikaans
- Baster Afrikaans spoken in Namibia by the Rehoboth Basters of Rehoboth.
- Oorlams Afrikaans
There is also a prison cant known as soebela, or sombela which is based on Afrikaans yet heavily influenced by Zulu. This language is used a secret language in prison and is taught to initiates.
Owing to the mass emigration of mainly white South Africans post-1994 they may be up to a million Afrikaans speakers outside Southern Africa. There is at least one Afrikaans language newspaper in London, Die Stem. and Sydney has radio broadcasts in Afrikaans. This has given rise to the somewhat humorous idea of a dialect of "Buitelands" Afrikaans or "Sout-mielie" Afrikaans- usually influenced by English owing to the fact that most South Africans have emigrated to Anglophone countries. Afrikaans has become to many South Africans what Yiddish once was to the Jewish Community.
Standardization
The linguist Paul Roberge suggests that the earliest 'truly Afrikaans' texts are doggerel verse from 1795 and a dialogue transcribed by a Dutch traveller in 1825. Printed material among the Afrikaners at first used only standard European Dutch. By the mid-19th century, more and more were appearing in Afrikaans, which was very much still regarded as a set of regional dialects.
In 1861, L.H. Meurant published his Zamenspraak tusschen Klaas Waarzegger en Jan Twyfelaar, which is considered by some to be the first authoritative Afrikaans text. Abu Bakr Effendi also compiled his Arabic Afrikaans Islamic instruction book between 1862 and 1869, although this was only published and printed in 1877. The first Afrikaans grammars and dictionaries were published in 1875 by the Genootskap vir Regte Afrikaners ('Society for Real Afrikaners') in Cape Town.
The First and Second Boer Wars further strengthened the position of Afrikaans. The official languages of the Union of South Africa were English and Dutch until Afrikaans was subsumed under Dutch on 5 May 1925.
The main Afrikaans dictionary is the Woordeboek van die Afrikaanse Taal (WAT), which is as yet incomplete due to the scale of the project, but the one-volume dictionary in household use is the Verklarende Handwoordeboek van die Afrikaanse Taal (HAT). The official orthography of Afrikaans is the Afrikaanse Woordelys en Spelreëls , compiled by the Taalkommissie.
The Afrikaans Bible
A major landmark in the development of the Afrikaans language was the full translation of the Bible into the language. Prior to this most Cape Dutch-Afrikaans speakers had to rely on the Dutch Statenbijbel. The aforementioned Statenvertaling had its origins with the Synod of Dordrecht 1637 and was thus in an archaic form of Dutch. This rendered uderstanding difficult to Dutch speakers and increasingly unintelligible to Afrikaans speakers.
C.P. Hoogehout, A.Pannevis and S.J. du Toit were the first Afrikaans Bible translators. Important landmarks in the translation of the Scriptures were in 1878 with C.P. Hoogenhout's translation of the Evangelie volgens Markus (Mark), however this translation was never published. The manuscript is to be found in the Nasionale Biblioteek van Suid-Afrika or South African National Library, Cape Town.
The first official Bible translation of the entire Bible into Afrikaans was in 1933 by Prof. J.D. du Toit, Prof. E.E. van Rooyen, Prof. J.D. Kestell, Dr. H.C.M. Fourie en Prof. B.B. Keet. This monumental work established Afrikaans as a "suiwer" and "oordentlike taal", i.e. a pure and suitable language for religious purposes, especially amongst the deeply Calvinist Afrikaans religious community that that had hitherto been somewhat sceptical of a Bible translation out of the original Dutch language to which they were accustomed.
In 1983 there was a fresh translation in order to mark the 50th anniversary of the original 1933 translation and provide much needed revision. The final editing of this edition was done by E.P. Groenewald, Prof. A.H. Van Zyl, Prof. P. A. Verhoef, Prof. J.L. Helberg and Prof. W. Kempen.
Afrikaans Version of the Lord's Prayer. "Onse Vader"
Onse Vader wat in die hemele is, laat u naam geheilig word. Laat u koninkryk kom, laat u wil geskied, soos in die hemel net so ook op die aarde. Gee ons vandag ons daaglikse brood, en vergeef ons ons skulde, soos ons ook ons skuldenaars vergewe. En lei ons nie in versoeking nie, maar verlos ons van die bose. Amen.
Classic Dutch Protestant version of the Lord's Prayer. "Onze Vader"
Onze Vader die in de Hemelen zijt Geheiligd zij Uw Naam. Uw Rijk kome, Uw Wil geschiede op aarde als in de Hemel. Geef ons heden ons dagelijks brood en vergeef ons onze schulden gelijk ook wij vergeven aan onze schuldenaren. En leid ons niet in bekoring, maar verlos ons van het kwade. want van U is de Kracht en de Heerlijkheid in Eeuwigheid. Amen.
Featured Video