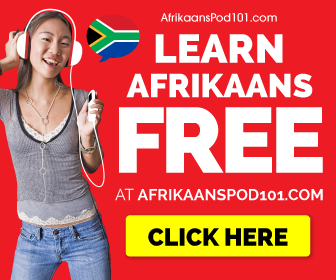 Afrikaans is an Indo-European language, derived from Dutch and classified as Low Franconian Germanic, mainly spoken in South Africa and Namibia, with smaller numbers of speakers in Botswana, Angola, Swaziland, Zimbabwe, Lesotho, Zambia and Argentina. Due to emigration and migrant labour, there are possibly over 100,000 Afrikaans speakers in the United Kingdom, with other substantial communities found in Brussels, Amsterdam, Perth, Mount Isa, Toronto and Auckland. It is the primary language used by two related ethnic groups in South Africa: the Afrikaners and the Coloureds or kleurlinge or bruinmense (including Basters, Cape Malays and Griqua).
Geographically, the Afrikaans language is the majority language of the western one-third of South Africa (Northern and Western Cape, spoken at home by 69% and 58%, respectively). It is also the largest first language in the adjacent southern third of Namibia (Hardap and Karas, where it is the first language of 44% and 40%, respectively).
Afrikaans originated from the 17th century Dutch language. The dialect became known as 'Cape Dutch'. Later, Afrikaans was sometimes also referred to as 'African Dutch' or 'Kitchen Dutch', although these terms were mainly pejorative. Afrikaans was considered a Dutch dialect until the late 19th century, when it began to be recognised as a distinct language, and it gained equal status with Dutch and English as an official language in South Africa in 1925. Dutch remained an official language until the new 1961 constitution finally stipulated the two official languages in South Africa to be Afrikaans and English (although the 1961 constitution still had a sub-clause stipulating that the word "Afrikaans" was also meant to be referring to the Dutch language). It is the only Indo-European language of significance that underwent distinct development on the African continent. Afrikaans and Dutch are largely mutually intelligible.
Featured Video