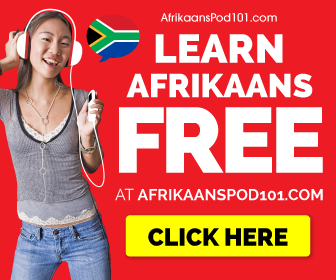 Afrikaans is the first language of approximately 60% of South Africa's Whites, and over 80% of the Coloured (mixed-race) population. The race with the highest number of Afrikaans speakers are the Coloureds(3 million), followed closely by whites (2.6 million). Some 200,000 black South Africans speak it as their home language. Large numbers of Bantu-speaking and English-speaking South Africans also speak it as their second language.
Some state that the term Afrikaanses should be used as a term for all people who speak Afrikaans, irrespective of ethnic origin, instead of 'Afrikaners', which refers to an ethnic group, or 'Afrikaanssprekendes' (lit. people that speak Afrikaans). Linguistic identity has not yet established that one term be favoured above another and all three are used in common parlance.
It is also widely spoken in Namibia, where it has had constitutional recognition as a national, but not official, language since independence in 1990. Prior to independence, Afrikaans, along with German, had equal status as an official language. There is a much smaller number of Afrikaans speakers among Zimbabwe's white minority, as most have left the country since 1980. Afrikaans was also a medium of instruction for schools in Bophuthatswana Bantustany.
Many South Africans living and working in Belgium, The Netherlands, Australia, New Zealand, Canada, the United States, and the United Kingdom are also Afrikaans speakers; and there is now an Afrikaans newspaper in London, called Die Stem . New Zealand has an Afrikaans club which is based in Auckland and which organises Afrikaans dances and meetings (http://www.afrikaans.org.nz/).
Afrikaans has been influential in the development of South African English. Many Afrikaans loanwords have found their way into South African English, such as 'bakkie' ('pickup truck'), 'braai' ('barbecue'), 'tekkies' ('sneakers'). A few words in standard English are derived from Afrikaans, such as 'aardvark' (lit. 'earth pig'), 'trek' ('pioneering journey', in Afrikaans lit. 'pull' but used also for 'migrate'), 'spoor' ('animal track'), 'veld' ('Southern African grassland' in Afrikaans lit. 'field'), 'boomslang' ('tree snake') and apartheid ('segregation'; more accurately 'apartness' or 'the state or condition of being apart').
In 1976, high school students in Soweto began a rebellion in response to the government's decision that Afrikaans be used as the language of instruction for half the subjects taught in non-White schools (with English continuing for the other half). Although English is the mother tongue of only 8.2 per cent of the population, it is the language most widely understood, and the second language of the majority of South Africans. Afrikaans is more widely spoken than English in the Northern and Western Cape provinces, several hundred kilometers from Soweto. The Black community's opposition to Afrikaans and preference for continuing English instruction was underscored when the government rescinded the policy one month after the uprising: 96% of Black schools chose English (over Afrikaans or native languages) as the language of instruction. Many historians argue that the language issue was a catalyst for the uprising rather than a major underlying cause (which was racial oppression). Others argue that the primary cause of the uprising was one specific aspect of the government's language instruction decision: that non-White (i.e., Black, Coloured and Indian) South African children be denied instruction in all but the most basic topics of mathematics, sciences, fine arts, etc. The government justified this policy by claiming that non-White South Africans would never have an occasion to use such knowledge; see History of South Africa.
Under South Africa's democratic Constitution of 1996, Afrikaans remains an official language, and has equal status to English and nine other languages. The new policy means that the use of Afrikaans is now often reduced in favour of English, or to accommodate the other official languages. In 1996, for example, the South African Broadcasting Corporation reduced the amount of television airtime in Afrikaans, while South African Airways dropped its Afrikaans name Suid-Afrikaanse Lugdiens from its livery. Similarly, South Africa's diplomatic missions overseas now only display the name of the country in English and their host country's language, and not in Afrikaans.
In spite of these moves (which have upset many Afrikaans speakers), the language has remained strong, with Afrikaans newspapers and magazines continuing to have large circulation figures. Indeed the Afrikaans language general interest family magazine Huisgenoot, has the largest readership of any magazine in the country. In addition, a pay-TV channel in Afrikaans called KykNet was launched in 1999, and an Afrikaans music channel, MK, in 2005. A large number of Afrikaans books are still published every year, mainly by the publishers Human & Rousseau, Tafelberg Uitgewers, Struik, and Protea Boekhuis.
Afrikaans music is also flourishing, from retro pop artist like Nicholis Louw, Eden, and Shine 4 to more forceful/avant garde outfits (Kobus!, Fokofpolisiekar, Buckfever Underground etc.) singing in the language.
Modern Dutch and Afrikaans share 85 plus per cent of their vocabulary. Afrikaans speakers are able to learn Dutch within a comparatively short period of time. Native Dutch speakers pick up written Afrikaans even more quickly, due to its simplified grammar, whereas understanding spoken Afrikaans might need more effort. Afrikaans speakers can learn a Dutch accent with little training. This has enabled Dutch and Belgian companies to outsource their call centre operations to South Africa.
Afrikaans has two monuments erected in its honour. The first was erected in Burgersdorp, South Africa, in 1893, and the second, better-known Afrikaans Language Monument ( Afrikaanse Taalmonument ) was built in Paarl, South Africa, in 1975.
Featured Video