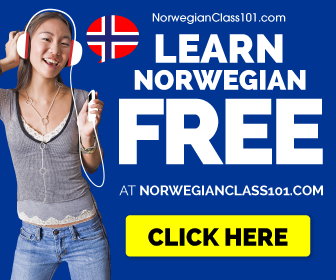 now
nå
---
later
senere
---
before
tidligere (tid-li-re)
---
morning
morgen (må-årn)
---
afternoon
ettermiddag
---
evening
kveld (kvell)
---
night
natt
Clock Time
It is worth noting that whenever you say 'one o'clock', you use 'ett' instead of 'en'.
24 Hour System
The simplest way to say time is to use the 24 hour system.
---
8.00
klokka åtte null null
---
19.37
klokka nitten tretti sju
---
1.01
klokka ett null en
12 Hour System
There is no universal AM/PM usage in Norway. It can be hard to choose the correct preposition/grammar to use for distinguishing between AM and PM (which depends a lot on context, past, future, etc), so the easiest is to simply add the time of day after having said the time.
---
10.00
klokka 10
---
10.05
fem over 10 (femm åv-er ti)
---
10.10
ti over 10
---
10.15
kvart over 10
---
10.20
ti på halv 11
---
10.25
fem på halv 11
---
10.30
halv 11 (hall 11)
---
10.35
fem over halv 11
---
10.40
ti over halv 11
---
10.45
kvart på 11
---
10.50
ti på 11
---
10.55
fem på 11
Duration
_____ minute(s)
_____ minutt(er)
---
_____ hour(s)
_____ time(r)
---
_____ day(s)
_____ dag(er)
---
_____ week(s)
_____ uke(r)
---
_____ month(s)
_____ måned(er) (må-ned/månt-er)
---
_____ year(s)
_____ år
Days
today
i dag
---
yesterday
i går
---
tomorrow
i morgen (i må-årn)
---
this week
denne uka
---
last week
forrige uke (fårr-je u-ke)
---
next week
neste uke
---
Sunday
Søndag
---
Monday
Mandag
---
Tuesday
Tirsdag
---
Wednesday
Onsdag
---
Thursday
Torsdag
---
Friday
Fredag
---
Saturday
Lørdag
Months
January
Januar
---
February
Februar
---
March
Mars
---
April
April
---
May
Mai
---
June
Juni
---
July
Juli
---
August
August
---
September
September
---
October
Oktober
---
November
November
---
December
Desember
Writing Time & Date
Jan 5 1979
5 jan. 1979
---
Jan 5 1979
5/1-1979
Featured Video