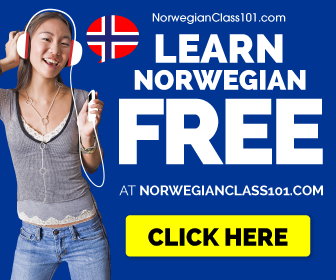 The Alphabet
The Norwegian alphabet is as follows:
A B C D E F G H I J K L M N O P Q R S T U V W X Y Z Æ Ø Å (29 letters)
a b c d e f g h i j k l m n o p q r s t u v w x y z æ ø å
Bokmål and Nynorsk
Like some other European countries, Norway has an official "advisory board" – Språkrådet (Norwegian Language Council) – that determines, after approval from the Ministry of Culture, official spelling, grammar, and vocabulary for the Norwegian language. The board's work has been subject to considerable controversy through the years, and much work lies ahead.
Both Nynorsk and Bokmål have a great variety of optional forms, particularly Bokmål. The Bokmål that uses the forms that are close to Riksmål is called moderate or conservative, depending on one's viewpoint, while the Bokmål that uses the forms that are close to Nynorsk is called radical. Nynorsk has forms that are close to the original Landsmål and forms that are close to Bokmål.
Riksmål
Opponents of the spelling reforms aimed at bringing Bokmål closer to Nynorsk have retained the name Riksmål and employ spelling and grammar that predate the Samnorsk movement. Riksmål and conservative versions of Bokmål have been the de facto standard written language of Norway for most of the 20th century, being used by large newspapers, encyclopedias, and a significant proportion of the population of the capital Oslo, surrounding areas, and other urban areas, as well as much of the literary tradition. Since the reforms of 1981 and 2003 (effective in 2005), the official Bokmål can be adapted to be almost identical with modern Riksmål. The differences between written Riksmål and Bokmål are today comparable to Commonwealth English vs American English.
Riksmål is regulated by the Norwegian Academy, which determines acceptable spelling, grammar, and vocabulary.
Høgnorsk
There is also an unofficial form of Nynorsk, called Høgnorsk, discarding the post-1917 reforms, and thus close to Ivar Aasen's original Landsmål. It is supported by Ivar Aasen-sambandet, but has found no widespread use.
Current Usage
About 85.3% of the pupils in the primary and lower secondary schools in Norway receive education in Bokmål, while about 14.5% receive education in Nynorsk. From the eighth grade onwards pupils are required to learn both. Out of the 433 municipalities in Norway, 161 have declared that they wish to communicate with the central authorities in Bokmål, 116 (representing 12% of the population) in Nynorsk, while 156 are neutral. Of 4,549 Norwegian publications in 2000 8% were in Nynorsk, and 92% in Bokmål/Riksmål. The large national newspapers (Aftenposten, Dagbladet and VG) are published in Bokmål/Riksmål. Some major regional newspapers (including Bergens Tidende and Stavanger Aftenblad), many political journals, and many local newspapers use both Bokmål and Nynorsk.
Featured Video