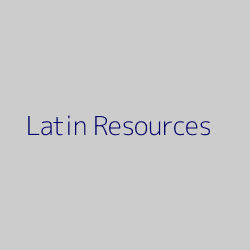 Learn Latin with these useful resources from around the web.

There's never been a better time to learn a language. No matter your age or experience, a plethora of tools and resources are available to get you started or help you improve your language skills.

Best of all, many of these resources are completely free.

Check out the links below to jump-start your Latin.
General
Omniglot - Basic overview of Latin with alphabet and useful links
Wikipedia - Overview of the Latin language
Free Courses
Paid Courses
Amazon - Latin language learning materials
Udemy - Online Latin courses from experts
Phrases
Dictionaries and Translation
Grammar and Vocabulary
Forvo - Collection of Latin words pronounced by native speakers
Wikipedia - Latin grammar
Memrise - Spaced repetition site and app for learning Latin vocabulary
Verbix - Vulgar Latin verb conjugation tool
Verbix - Latin verb conjugation tool
Video
TED - Watch TED talks with Latin subtitles and transcripts
YouTube - Search videos for learning Latin
Radio and Podcasts
Social Media
Meetup - List of Latin language meetups worldwide
Reddit - /r/lanl_Latin subreddit for learning Latin
Reddit - /r/latin subreddit for learning Latin
Books
News
Other Resources
Articles and Opinion
This list is updated as more resources become available. You may want to bookmark this page so you can easily refer to it again later.

Do you know of a quality resource that should be on this list? If so, please let me know about it or share it in the comments below!